HDCAs now Available
Bridger-Teton National Forest is a trial area for new
"High Density Camping Area" program to
accommodate more campers and better utilize available space.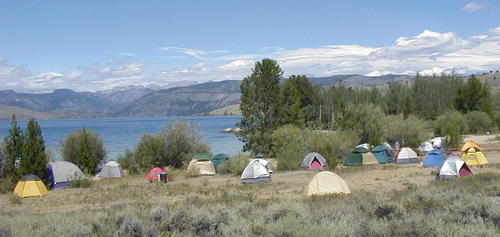 Fremont Lake HDCA
HDCA units can accommodate up to 600 tents in a 100' x 100' area and are available by special reservation boards online through the Jackson Forest Service office, http://www.fs.fed.us/rockymtn/nf/b-t/reservations/specialonline/recreation/HDCAs Reservations must be made 6 months in advance to guarantee desired campground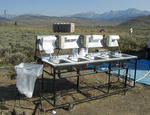 location.
HDCAs are now available at Fremont Lake, Green River Lakes and Big Sandy Recreation area. They are being considered for Cirque of the Towers and Titcomb Basin areas for next season. Public comment is being accepted on other locations for establishing HDCA sites.
Due to the increased number of grizzly bears in the area, partially because of aggressive Game & Fish management and relocation programs, and campers not heeding posted "Do Not Feed the Bears" signs, special rules now apply to most of the Bridger-Teton National Forest.
Visitors must now bring their own water supply, even for extended stays in the backcountry area. Recent studies have indicated that hikers who drink imported water have fewer encounters with bears while on trails. No one knows why. Some researchers speculate the chemical composition of out-of-area water may contain compounds that are less attractive to bears than local water. Bears have a very good sense of smell you know. Signs have been posted throughout local campgrounds warning visitors not to drink the water.

Special, bear-proof, 10 gallon water backpack tanks are available to rent from local Forest Service offices for hikers planning extended trips into wilderness areas.
Home
Thanks for not visiting Pinedale
Pinedale OFFLINE
505-623-6886
E-mail: support@pinedaleoffline.com