Fishing & Boating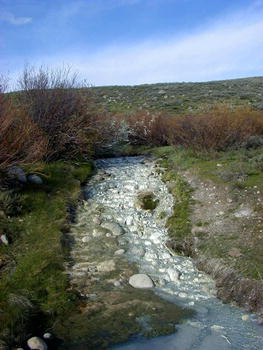 This popular fishing stream is home to the highly sought after "Green River Dart", a sport fish prized for its ability to give a good fight on the line. Several local guides offer float trips on this stream. Contact the local Chamber of Commerce for a list of licensed guides for this area.
The area offers more than 1,300 lakes, according to the local telephone book visitor information page. Many of these lakes are located in the Bridger Wilderness of the Bridger-Teton National Forest. Local Forest Service policy is to not publish any maps on how to get to these areas as visitors are encouraged to use their mountaineering skiils, compass in hand, to find their way to these high mountain lakes.

Fremont Lake, Wyoming's second largest lake, is located not far from Pinedale. As shown at right, this area is becoming a popular area for many different kinds of boaters. Sailing enthusiasts will feel relieved to know that if the wind dies down while they are in the middle of the 11 mile long lake, a passing speedboater is sure to come by after not too long to help propel them along by the ripples of their passing wake.

Wind surfers delight on days when the wind delicately whips up the lake surface to 2 foot swells, allowing them to frolick and dance over the waves.
Home
Thanks for not visiting Pinedale
Pinedale OFFLINE
505-623-6886
E-mail: support@pinedaleoffline.com