Mad Cows? Mad Tourists?

Strange things have been happening in Pinedale lately. So many unusual occurrences, in fact, that the County Commissioners have been forced to do the ultimate, quarantine Pinedale to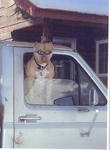 protect the rest of the world until the cause of the mysterious events can be identified.
"Things started happening late last year," reported a local rancher who wishes to remain anonymous. "I noticed it first in my dogs. They started acting real funny, like they was wanting to help out more around the ranch. They've always been good at helping with the chores once I got them trained, so I didn't think much of it at first. Thought they was just getting to be finely trained cowdogs. Then more and more little things started catching my attention. Like when Big Jake started not wanting to ride on the hay in the back of the truck, but insisting on riding in front with me whenever we went out to do the chores.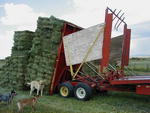 Then they all started ganging up and herding me into stockpiling the hay near the house. What do you suppose they are up to?" County extension agents are at a loss to explain the unusual behavior, scoffing at the notion that the canines were moving the stacks of hay closer to home to take advantage of the mice, skunks, moose and other indigenous animals that rely on the stacks during the winter for shelter and food. "In the city, dogs can run after fire trucks or chase cats up trees. Our fire trucks rarely have to make a run, and not many ranches have trees for cats to run up, so Wyoming dogs have to find other means of keeping themselves entertained when they aren't out nipping cow's heels or eating gopher heads."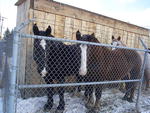 Other ranchers have reported similar unusual behavior in their animals. "I thought we were just talking about quarantining hay," mused another rancher, "Now I see that sealing off the whole town is probably necessary to contain whatever is going on." This particular rancher explained that his horses odd behavior finally caused him to put them in a maximum security pen to keep them from getting out and causing havoc on the ranch. "I didn't know what else to do with them. They got out of every other corral on the place and even learned how to open up all the gates. Even the ones my wife can't open. I kept finding them up on the elk feedground trying to blend in with the herd."
But What About the Tourists and Events Usually Held in Pinedale?
"We're delighted!" commented the Director of the Green River Valley Museum. "The Museum of the Mountain Man has already contacted us about taking over the events for the Green River Rendezvous this year. We're going to hold the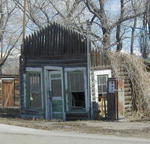 festivities back on the original Rendezvous Grounds up in Daniel and have black powder shoots and many other events. It's a wonderful chance for us to showcase our end of the county and all our scenic attractions." Although the local Big Piney/Marbleton Chamber of Commerce admitted to being somewhat uncertain of where to park the 33,000 mountain men and visitors that typically descend on Pinedale during the 3-day Rendezvous, they said they have worked out a temporary solution to line the cars along the newly widened highway between Piney and Daniel. "They should just about all fit and they'll be conveniently located between both towns and the events taking place between them."
Residents of the neighboring towns are putting any past difference behind them to come forward and help out in this time of need. Daniel, a town of approximately 100, is already sprucing up in preparation for the influx of visitors for the July Rendezvous. "We're a little short on motel rooms, but we'll make do. We can sleep a couple hundred easy in the old schoolhouse and nearby ranchers have opened their barns and roping arenas for overnight guests."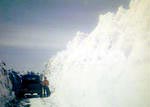 Unusual Weather
Local weather experts are stumped by the unusual weather the Pinedale area has been getting of late. "We usually have the typical four seasons: Early Winter, Winter, Late Winter and August. This year has been just plain bizarro." One storm alone brought a dense fog that covered the town for 3 days, snowing the entire time. When the storm finally blew over,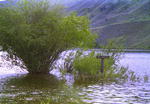 residents were astounded by how much snow had accumulated.
"Best winter we've ever had," said one local snowmobile enthusiast, "the season should last clear through July this year! I love snowmobiling and watching 4th of July fireworks!"
Taking advantage of the lull in tourist traffic for one season, local Forest Service officials are more clearly marking campground and dispersed recreation area sites throughout the area. "We've had a real problem with people camping in places they aren't supposed to."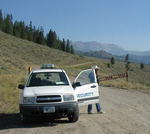 In a massive preventative effort, state officials have already posted roadblocks on the major highways leading into the Pinedale area. Visitors traveling north from Rock Springs are being diverted off Highway 191, south of Pinedale, west along Highway 351 to services in Big Piney and Marbleton, as well as in Daniel. From the north, travelers can find accommodations and food in the new town of Stanley's Junction at the intersection of Hwy 191 and Hwy 189. The community of Merna has banded together to create RV parking for the expected summer tourist traffic. Anyone attempting to enter the quarantine area will be turned around at the highway roadblocks by guards who will permit only local traffic to and from the area.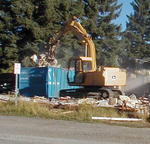 Crews have already begin the daunting task of demolishing buildings as well as digging up the main streets to prevent through traffic. "Until we can get a handle on these strange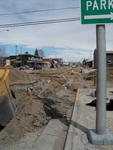 events, it's just not a safe place for outsiders." Although some critics maintain that the quarantine effectively will clear the entire area of outside tourists, locals claim this is only an unexpected side effect and not an attempt to finally get their favorite fishing spot all to themselves. "Just because we have a new ski area, two movie theaters, a bowling alley, and four public hot tubs in town now, not to mention an elevator, is no cause for the nay-sayers to be accusing us of wanting to make something like this up just to have the place finally all to ourselves. That's absolutely ridiculous!"
How long is the closure expected to last? "Can't really pin that down." responded one official.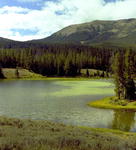 "We've all taken on extra duties to try and get the town through all this. I have personally volunteered to inspect fishing access points along the Green and New Fork River to assess damage and impact to local fisheries values. I'll probably have to spend weeks to catch hundreds of fish over the summer to determine the real impacts this could be having on our valuable resources."
"See that eerie glow in the water? Don't know what's causing it, but we'll be sparing no expense to get to the bottom of it." explained another city official. The strange glow appeared in several area lakes approximately a month ago causing speculation that some shift in local geology may be responsible for the unexplained animal behavior. "Maybe some oddball geothermal activity or shifts in the magnetic field are causing all this" postulated an expert brought in from the Rock Springs Community College. "The inner earth is an unexplored frontier. All kinds of things could be going on down there we can't even guess. Look at Yellowstone National Park just 100 miles to the north. Heck, this could turn out to be the birth of Little Yellowstone in our own backyard!" Forest Service officials wouldn't comment on the ramifications of a 'Little Yellowstone' National Park being created in the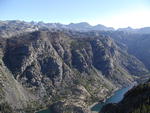 Wind River Mountains and the impact that might have on grizzly or lynx management.
In the event medical experts and all clean up efforts are unsuccessful in determining the cause of the strange weather patterns and other unexplained occurrences in animal behavior and lake chemistry, the road blocks into the Pinedale area could potentially become permanently installed. A new townsite location has already been selected at a slightly higher elevation to assure the townspeople clean air and a pure environment for a fresh start for the new Pinedale (see photo at right). Visitors making their summer vacation arrangements are encouraged to plan extra time for the slight detour in their travel routes and take advantage of the many other recreational opportunities the area has to offer on their way to Jackson and Yellowstone.